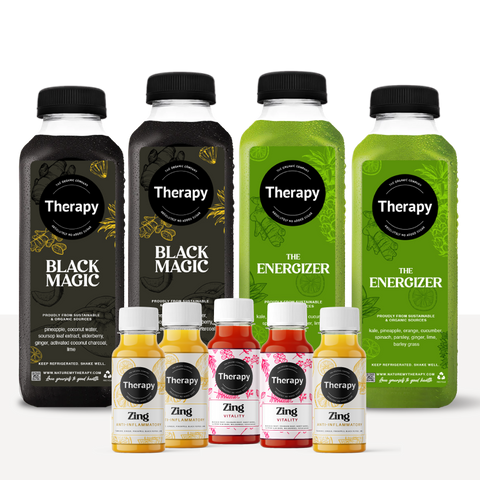 Nature My Therapy
IMMUNITY PACK
With our Anti-inflammatory and Rejuvenating properties we are your wellness partners!
Instructions: Your First Aid for a one day intensive or have over two days. Start with a shot + Juice, then have one Juice or shot every two hours.
5 ZING SHOTS
Anti-Inflammatory Shot ingredients: Turmeric, Ginger, Lime, Black pepper.
Vitality Shot ingredients: Burdock Root, Rhubarb Root, Sheep Sorrel, Slippery Elm Bark, Elderberries, Mulberries, Fever Grass
 2 BLACK MAGICS 
Ingredients: Activated coconut charcoal, Pineapple, Soursop Leaf extract, Elderberry, Ginger, Coconut water, Lime.
2 ENERGIZERS 

Ingredients: Kale, Pineapple, Parsley, Romaine lettuce, Orange, Lime, Ginger, Cucumber, Coconut water, Probiotics.