Detox FAQ.
Here are the answers to the most frequently asked cleanse questions:
Q: Isn't it true that our bodies are capable of cleansing naturally? If so, why should I partake in the cleansing trend?
A: It is definitely true to say that our bodies cleanse naturally and constantly. We like to think of our cleanse program as an occasional way to pause and reflect from hectic normal life routines—and to take a dietary choice with us. Historically cleansing was a way to bring balance back into people's lives. So, while it is only being incorporated into dietary practices in the past few years by the masses, cleansing is certainly not a trend.
Q: Who should cleanse?
A: Our Cleanse packages are designed for persons seeking to boost their wellness and reduce the toxic ltd on their body. From the busy mom to the stressed out road warrior to the person who has been sedentary and is now looking to change their lifestyle, people from all different lifestyles can find a THERAPY® cleanse that is right for them.
THERAPY® cleanse programs are designed for adults to enjoy, even those of you who are lactose-intolerant and keep a vegan or gluten-free diet. Children under 18 should not participate in our cleansing program without consent from a parent and under the supervision of a heath care professional.
**Please keep in mind that our cleanse programs are NOT appropriate for those of you who are pregnant, breastfeeding, or suffer from certain medical conditions. Consult your health care provider before starting a cleanse program if you have a medical condition or take medications. 
Q: What if I am pregnant or breastfeeding?
A: Our cleanse programs are designed for all healthy people; however, there are certain individuals who should not partake. If you are pregnant or breastfeeding, you should not restrict your diet to liquids, as you need extra calories and nutrients in your diet. Consult your health care professional if our drinks are right for you.
Q : How many Calories are in your juices?
A: Although we don't believe in calorie counting, we know it is a constant concern for many individuals. Please don't think of our cleanse programs as a weight reduction diet; we want to get you out of that mentality and into an understanding that our drinks, including our fresh-pressed vegetable and fruit juices as well as our vegan protein blends (*contains seeds and nuts*), give you increased water intake and cell deep nourishment. That being said, most of our drinks range from 50-300 calories per bottle.
Q: Will I really be able to handle a cleanse?
A: While committing to a cleanse program requires a level of dedication, it is not designed in any way to starve you. The goal is to feed you through highly nutritious liquids. At THERAPY®, our programs are perfectly workable with your daily schedule- and won't disrupt your day with laxative action. If at any point you feel the NEED to eat during the cleanse honour that, choose organic vegetables, fruits or raw nuts or seeds in very small quantities, these sensible snacks won't undo all the good you are doing. And don't forget that you can always call or WhatsApp us for support.
Q: Am I going to lose weight on a cleanse?
A: This is not the main goal of our THERAPY® cleanse packages but yes weightless is usually a byproduct of doing our cleanses. More importantly cleansing will actually help your body to re-balance itself.
Q: How long can my juices last?
A: Each bottle can be kept in sealed, refrigerated containers and can last refrigerated for up to 3 days with little loss of taste.
Q: When were my juices made?
A: They are made on the scheduled day of pickup, upon your order and payment being confirmed.
Q: Can I add extra beverages to my day of cleansing?
A: We are totally for adding extra drinks if you feel you are in over your head with just 5 drinks and 1 vegan protein drink per day, you can definitely order extra juices from our site to keep on hand for emergencies. Stay away from carbonated drinks, especially soda, please! 
Q: Can I exercise while on a cleanse?
A: Definitely, just try to be gentle with yourself. You are still getting nutrition, but it is wise to beware of lower volume of foods. You will most likely find that you have lots of energy and if you so desire, go for a light jog or power walk around the neighbourhood. Otherwise it's always a great idea to stick to yoga or pilates for that added effect of intense breathing to help you maximize your cleanse.
Q: Can I do work on a cleanse? What if I have to focus on important meetings?
A: There is a big misconception that you will spend the entirety of your cleanse program in a brain fog. Fortunately, it's simply not true. So don't worry about work, just go on with your normal life. Remember that your body and mind are getting nourishment with your day's intake already planned out leaving you with less focus on where or how you are getting your next meals. Just try to stay away from the donuts and coffee in the conference room!
Q: Should I do a 1-day cleanse, 3-day cleanse or a 5-day cleanse?
A: This depends on what you would like to get out of the cleanse program. We suggest for persons new to juicing and first time cleansers to start off with a 1-day cleanse. for the more experienced cleanser or juicer go for the 3-day cleanse and for the expert juicer or cleanser enjoy a deeper and more intense experience with the 5-day cleanse. It's up to you and a health care professional to do an evaluation of where you are in your life and from there decide what works best for you. You always want to plan your cleanse for a period of time where you have some flexibility in your schedule and can make your body your top priority. Of course, you can always customize the program to last even longer than 5 days if you so desire. Listen to your body. You can always move up in your level, it is all about where you are when you are ready to embark on the experience.
Q: How often can I cleanse?
A: This decision is totally up to you, we suggest that should be discuss this with your health care professional. Many people like to cleanse whenever they start to feel in need of a boost in their wellness. This can mean anywhere from twice a month to once every month. However, we advocate making THERAPY® juices a part of your daily life, whether you are cleansing or not. Consuming the nutrients in our organic, no sugar added, freshly pressed juices on a regular basis will support your system and keep your body in optimal shape, inside and out.
Q: What do I do pre-cleanse?
A: It is recommended to eat vegetarian food for a minimum of (3) days before detox for maximum results. It is recommended that eating of processed foods and meats be temporally paused during cleanse.
Q: Is there anything I should avoid pre-cleanse?
A: Cut out coffee during cleanse. It is recommended that one gets adequate rest prior to starting cleanse. Refrain from drinking alcohol.
Q. How much water should I drink while cleansing?
A: Drink at least 3 Litres of water per day in-between the juices, along with coconut water, broth and herbal teas.
Q: When do I have the tea in my Detox box?
A: Our Detox Tea® should be taken on the night before the first day of Juicing. We include two tea bags in your Detox Box®, one tea bag should be steeped for 15 minutes in boiling water or the contents of one bag added to boiling water for 10 minutes then removed from fire. The second Detox Tea can be had on the last day of your cleanse or on another occasion of your choosing. 
Q: How often do I drink the juices in my detox box?
A: Each detox juice should be consumed in 2 hour intervals, skipping juices will leave you hungry later and may result in your blood sugar crashing.
Q: How do I break the cleanse?
A: You've done it! Congratulations! How we end the cleanse is important to maintain the benefits. As your digestive system has been on a break it is recommended that you take it slow by having smoothies, fruits, and light vegetarian food for three days. Reflect on what you learned while cleansing and carry those lessons forward as you reintegrate solid foods into your diet. 
Q: What items to avoid after my cleanse?
A: Items to avoid for the first few days post cleanse: dairy, processed foods, red meat, fried foods and alcohol.
Q: Anything to keep in mind when reintroducing solid foods back into my diet?
A: After a cleanse you have the unique opportunity to identify potential food allergens and sensitivities. If you suspect that you may have a sensitivity to dairy, wheat, gluten, tinned foods, nuts, soy or anything else, systematically add these foods back into your diet one at a time to be able to identify if they indeed are a trigger for you. 
Q: What if I have questions during the cleanse?
A: We are here to help! If you have any questions or concerns - before, during or after--or if you would like to build a customized cleanse based on your needs and preferences, please do not hesitate to contact us. We love to hear from you! 
Q: I want to get regular juice deliveries to my house. Is this possible?
A: Absolutely! We are here to bring fresh drinks straight to your doorstep as often as you would like. We love to see our clients make THERAPY® organic juices and blends a regular part of their life.
Q : What if I have allergies or food sensitivities?
A : Please clearly state all food allergies and sensitivities prior to ordering cleanse . We prepare our products in a facility that contains seeds, nuts and unpasteurized juices and while we make the best effort avoid cross contamination it cannot be guaranteed. Please consult your physician or medical service provider prior to starting cleanse.
Q : What if I live outside of Kingston?
A : ADDITIONAL CHARGES APPLY FOR DELIVERIES OUTSIDE OF KINGSTON.  PAYMENT CONFIRMATION IS NEEDED BEFORE ITEMS ARE SHIPPED VIA KNUSTFORD EXPRESS OR SIMILAR. Contact THERAPY representative to confirm shipping schedule as operating hours have changed due to curfew restrictions.
THERAPY MEMBERS
Create a recurring order of your favorite THERAPY essentials and get more than just best savings every time. You'll get:
Get Access to VIP Savings
Enjoy New Flavours
Birthday Gifts
Extra Perks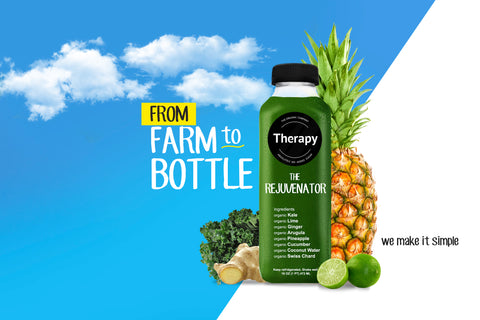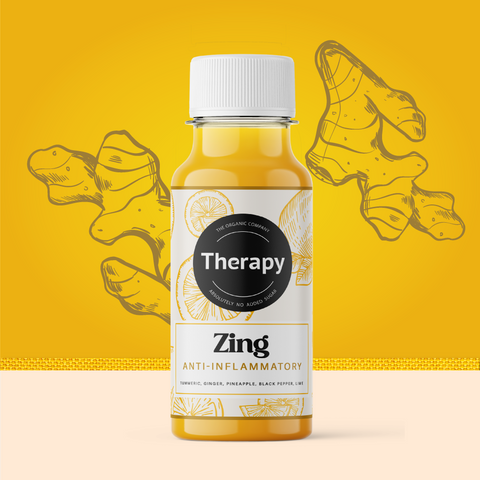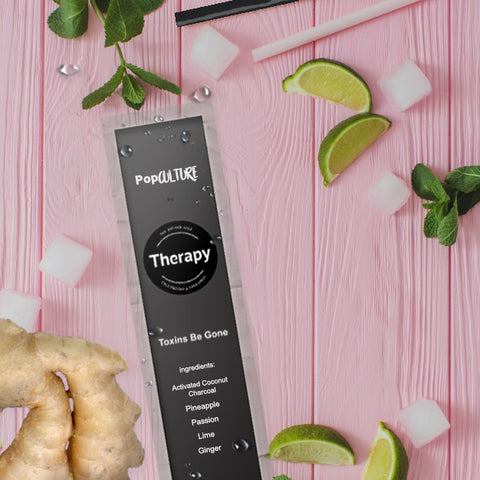 We LOVE to hear from you:
Have a question?
Email THERAPY at:
naturemytherapy@gmail.com

Together, we can rewrite the narrative of health, empowering individuals to embrace a vibrant and thriving life.
FAQ
Here are some useful pages that your might want to know about.