A BIG BOOST in a little bottle...
Enjoy our newest and best "booster-shots"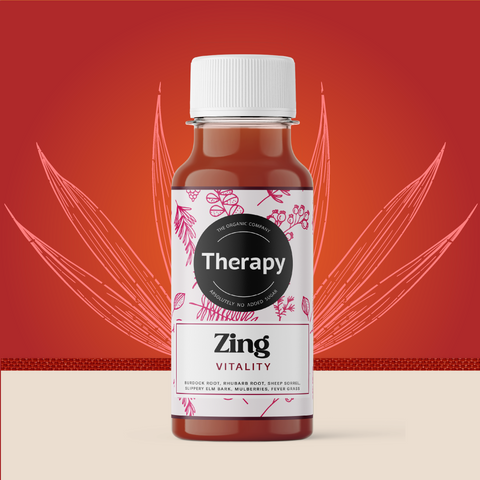 VITALITY
This vitalising blend offers a numerous health benefits: Burdock root's antioxidants aid skin and digestion. Rhubarb root supports digestion and fights inflammation. Sheep sorrel detoxifies and boosts immunity with vitamins. Slippery elm bark forms a protective layer which soothes throat and stomach. Mulberries provide heart health and nutrients. Fever grass (lemongrass) aids digestion and reduces inflammation.
Collections
Here are the crowd favourites
Subscribe today and have your orders delivered to you on your schedule.
From our THERAPY Sippers'
Here's what some of our lovely customers have to say about us:
"THERAPY has been a game-changer for my health and wellness routine. I love the convenience of having fresh, organic juice blends delivered right to my door every month, and the quality is unparalleled!"
"I've tried a lot of juice cleanse programs in the past, but nothing compares to THErapy. The blends are so delicious and satisfying, and I love knowing that I'm supporting my body's natural detoxification processes with every sip."
"The 'Zing' shots always makes the difference for me when I start to feel a little "cold" or "sniffles' coming on...I grab a few and have them in the morning and boy...life saver (Immunity is my fave)"